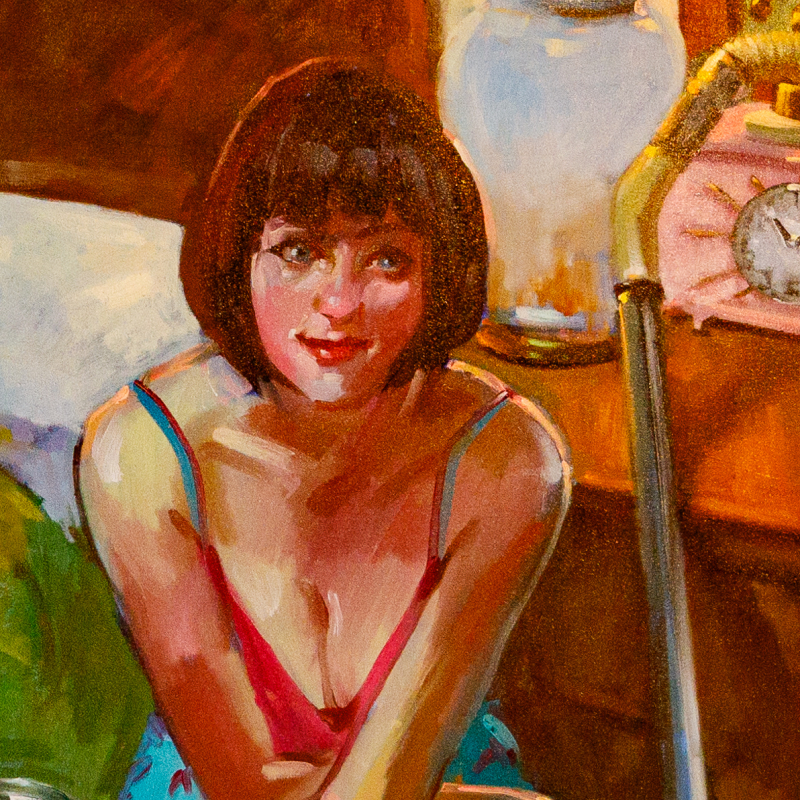 Expressive Portrait and Still Life with Henry Stinson
with Henry Stinson
$47500
Don't miss this great opportunity to learn the fundamentals of Russian portrait and still-life impressionistic painting with a contemporary flare from a highly respected artist and instructor.
Join us for a two-and-a-half-day workshop taught by Award Winning Artist Henry Stinson.
When: March 22, 23 and 24, 2024
Friday Night Demonstration - 6:30 - 9:30 pm
Saturday and Sunday Workshop - 10:00 am - 5:00 pm
Henry will lecture on the impressionistic approach to painting, helping you gain a maximum understanding of color and temperature relationships as you develop a solid foundation for creating paintings.
In each session, students will be given individual instruction and will work directly from life. This workshop is a must for artists of all levels interested in improving their painting abilities. All mediums are welcome.
 Students must bring their own supplies.  SUPPLY LIST
About Henry Stinson
Henry Stinson, a renowned artist and educator, has dedicated his life to the world of art, nurturing budding talents and crafting mesmerizing works of art. Born in Anchorage, Alaska, he was drawn to the four seasons and vibrant community of the Pacific Northwest. This love for the region and a passion for outdoor painting brought him back to the place he now calls home.
With over three decades of experience as an artist, Henry's journey in art education began at Washington State University, where he embarked on his creative path. His formal training continued at the Art Institute of Seattle, but it was his four years of intense apprenticeship with Russian impressionist painter Ron Lukas that truly shaped his artistic vision.
Henry Stinson has left an indelible mark as an educator, teaching the intricate arts of drawing and painting for more than 35 years. His career has spanned various colleges and privately owned institutions, impacting countless aspiring artists. His unique gift lies in his ability to convey practical knowledge and inspire students to create vivid and captivating art on canvas.
A gifted instructor, Henry's teaching philosophy centers on helping students uncover their unique gifts and abilities through the language of art. He firmly believes in laying a strong foundation by imparting the fundamentals, enabling students to connect prior knowledge with new skills and make informed artistic decisions. His classroom is a space where experimentation replaces fear, and mistakes are celebrated as essential steps in the learning process.
Henry encourages his students to embrace the idea that art is not about perfection but about the harmonious fusion of hand, eye, and mind. He understands that true art transcends mere technique and aims to evoke emotion, fostering a deep connection between the artist and their audience.
Henry Stinson has used innovative methods to expand his students' perspectives throughout his teaching career. He challenges them to experience art physically, using their entire body to create lines and form. This unconventional approach enhances their comfort and instills the confidence needed to be fully present in the creative process. Henry guides them towards a deeper understanding of the truth in their observations by breaking preconceptions and occasionally encouraging students to experience drawing with their non-dominant hands.
Henry's passion for art and teaching is fueled by his own artistic journey, which has taught him perseverance, courage, and unwavering faith in the unseen. He constantly strives to improve his craft, never forgetting his profound influence on future artists.
As an artist, Henry Stinson's work transcends ordinary sight, capturing unique moments that linger on the edge of memory. His ability to translate these moments onto canvas has garnered recognition in the United States and abroad. His pieces grace the collections of corporate leaders and private art enthusiasts alike.
Payment plan available: $200 deposit plus 2 payments of $91.66, paid every four weeks. Final payment of $91.68.
Picket Fence Art Studio
(425) 466-1751
14700 148th Ave NE
Woodinville, WA 98072 Get directions